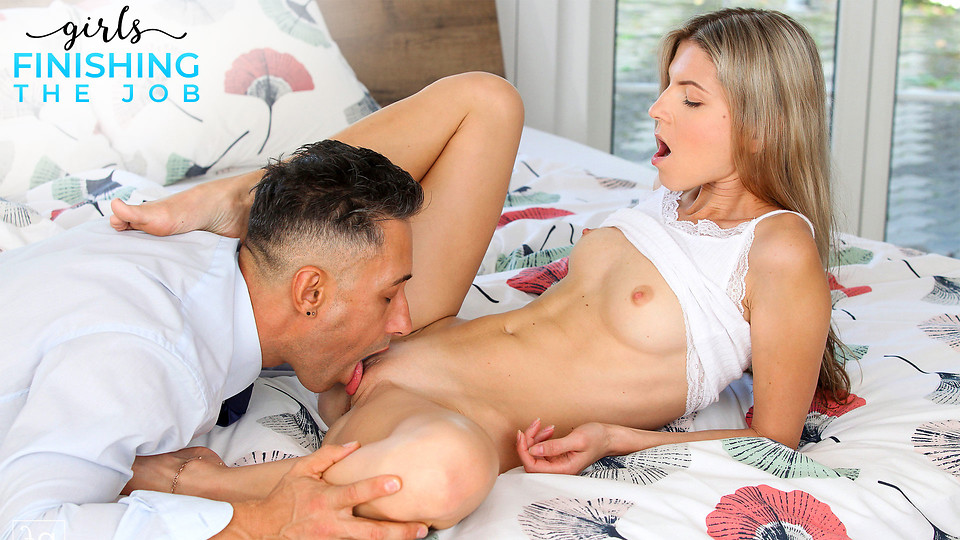 Nubile Films – Work from home means that Murgur doesn't have far to go for his morning commute. It also means that Murgur only has to get dressed from the waist up! At the same time, though, it means that Murgur needs to deal with a whole lot of temptation in the form of his girlfriend, Gina Gerson, who now has 24/7 access to his cock and doesn't like to be denied.
When Gina wakes up and finds Murgur half-dressed and in a meeting, she decides that her carnal needs are much more important than whatever her beau is doing. She entices him back to bed, at first with gentle kisses and then with more insistent movements of her hands and mouth. Eventually, Gina grabs Murgur's tie and hauls him to his feet so he can pay proper attention to her.
Murgur gets the hint and knows exactly what his lady love wants. He lays Gina down on the bed and worships her small breasts with his hands and mouth. When Gina's nipples are nice and hard, Murgur takes the time to suckle them properly before he works his way down Gina's super skinny body to settle with his tongue between her thighs.
Oral sex isn't just for Murgur to deliver. Gina wants a taste, too, so she rolls onto her belly and cover's Murgur's hard-on with kisses as she pulls it from his briefs. When her musky treat is freed, Gina takes her time sucking and stroking every long inch. Murgur eventually finds himself on the bed with Gina's lips still wrapped around his hard-on. When she finally changes her sensual tactics, it is only to get to a seated position and impale herself on his hard-on!